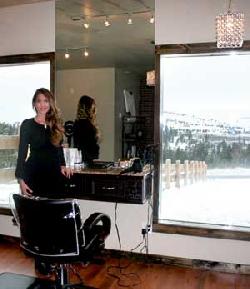 Submitted photo

A year ago, this open salon space occupied by Rachel Stratford looked like the 1981 barn that it is. The remodeling project paved the way for Stratford to open My Hair Girl, a women's only salon.


More News
'Hair Girl' transforms barn into beauty salon
1/9/2013 10:22:44 AM
By Valerie Putnam
Splash Contributor

"Barn with a little bling" is how Rachel Stratford describes her new Liberty Lake business.
"This kind of started out as a joke," said Stratford, laughing about the remodeled barn behind her home. "When we first looked at this, I would say, 'Oh that could be a salon someday,' and then turns out it is."
Joke or not, last fall Stratford opened the barn doors to My Hair Girl, a women's only salon.
"I didn't know what to expect when I drove up, but you open the door and it's beautiful inside," said Randi Brunt, who started going to My Hair Girl after a recommendation from a friend. "It was exactly what I was looking for. The setting is so beautiful and peaceful."
Advertisement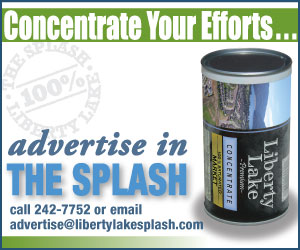 Though the barn is on Stratford and her husband's 18-acre parcel of property, she doesn't consider it a home-based salon.
"This is totally separate," Stratford said about her business. "I really want people to know that it's a relaxing, unique atmosphere. We've all been at the busy crazy hair salons. This is more of a place where they can recharge, relax and feel pampered."
Stratford designed and constructed the 1,100-square-foot salon using a section of the north side of her barn. The south side of the building, separated from the salon by a wall, provides space for feed and tackles for her and her husband's horses.
Beginning in January 2012, Stratford and her husband, Travis, along with friends, family and a hired crew, transformed the 1981 barn over the course of four months into a tranquil, elegant salon.
A large open space was transformed into three rooms. The dirty cement floor, old cabinets and a large garage door were replaced with hard wood flooring, marble counter top, two large picture windows and crystal chandeliers.
"You would never know you're in a barn," said Jessica Sheneman, who started going to the salon in June, prior to its official opening. "It's a completely different salon, and Rachel does a great job. It's a two for one package. Get to relax and have your hair done."
Having worked at three other salons over the past 15 years, Stratford included her favorite design elements of each into her salon.
The idea for the large brick wall, constructed by her uncle, came from Details Hair Design.
"We were in an old warehouse building," Stratford said about the Missoula-based salon. "Our stations were up against the original brick wall. I love the texture of that."
The Spa's crystal chandeliers were derived from Bella Sauvage, a Missoula-based beauty and day spa.
The layout of the hair station came from Regis Hair Salon in South Dakota.
"They're real good at designing their vanities and layout," Stratford said about Regis. "I had the space to do whatever I wanted in here, so I did the same set up I had there because I liked it so well."
Stratford's hair station also features two large picture windows on either side of a large mirror. The windows allow patrons to enjoy the stunning view of the valley.
"She is very knowledgeable," Brunt said. "She educated me on things about my hair that I have never been told before. I would recommend her to anyone."
At an early age, Stratford discovered she wanted to work with hair.
Growing up in the Black Hills area of South Dakota, she recalls spending time cutting and styling her dolls hair.
Her first exposure to a stylist came when she was about 6. Her Aunt Char, who owned a hair salon in Minnesota, gave her an "'80s perm" and pierced her ears.
"I could not wait," Stratford said about getting her ears pierced. "I would tell her that I wanted to be a hair stylist just like her when I grew up. Now I have nieces who come here and do the same thing."
During high school, she visited her aunt's salon and experimented on color and cuts.
"I learned a lot from my aunt," said Stratford, who cuts and colors her own hair. "She let us do whatever we wanted in that hair salon."
After high school, Stratford enrolled at Opal Concepts, a cosmetology school in South Dakota. Her first professional job was with Regis Hair Design in South Dakota, where she worked for more than nine years.
Beginning in 2007, she worked as an independent contractor for two salons in Missoula.
"That's what probably prompted this a little bit," Stratford said about being independent prior to owning her own salon. "When you go off on your own, it's hard to work for somebody again."
Stratford worked in Missoula for five years. After getting married, the Stratfords moved to Liberty Lake in July 2011. The salon name came from how Stratford's customers would refer to her when they met in public.
"I would see customers with their families, and they would refer to me as 'their hair girl," Stratford laughed. "That's what everybody called me."

---
Profiles:
My Hair Girl Salon

About
By appointment only, the salon features hair services, including cuts, colors, highlights as well as natural nail manicures and paraffin dips. In February, esthetic and facial services will be available. Eventually, Stratford plans to offer massage therapy.

Venue service
Stratford supports women-owned businesses and offers her salon to those wishing to host parties, such as makeup, purse or candle.

Fun fact
The home and barn were built in 1981, the first residence built on this particular ridge south of Liberty Lake.

For more
The salon is located at 2009 S. Molter Road. My Hair Girl can be contacted at 742-0896.