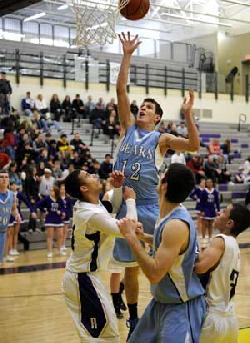 Photo by Bob Johnson/Spokane Sports Shots

Adam Chamberlain, who is averaging 14 points per game, shoots during the CV boys game against Rogers High School on Friday. CV beat Rogers, 76-42.



'Big Three' scoring nearly three-fourths of CV points
1/9/2013 10:20:47 AM

By Mike Vlahovich
Splash Contributor

Much of the credit for Central Valley's 9-0 boys basketball start is attributable to the sharp shooting of the team's "Big Three."

Beau Byus, Austin Rehkow and Adam Chamberlain literally share the wealth while accounting for 43 points of CV's average 60 per game.

Remarkably, the three have nearly identical scoring averages. Byus scores 14.8 per game with double figures in the last six; Rehkow 14.3, and Chamberlain 14.0, their contributions spread throughout different times during the season.

"Well, we knew those three would be the catalysts," coach Rick Sloan said. "(But) you don't see that (kind of balance) very often."

The holidays over, the unbeaten Bears (9-0) get down to business with their final 11 GSL games spread over the next month, four of them this week.

Tuesday they hosted a pivotal game against Ferris. The Saxons were 5-2 in league and 7-2 overall heading into the contest. They complete the first half of the season against improved Mt. Spokane at home tomorrow, are at Mead Saturday followed by U-Hi in the Stinky Sneaker game at the Spokane Arena on Tuesday.

Advertisement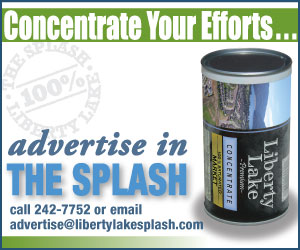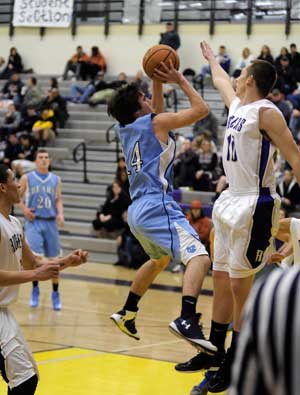 Photos by Bob Johnson/Spokane Sports Shots
Liberty Lake's A.J. Knudsen attacks the basket (above), while Austin Rehkow drives around a Rogers defender (below) during last week's game.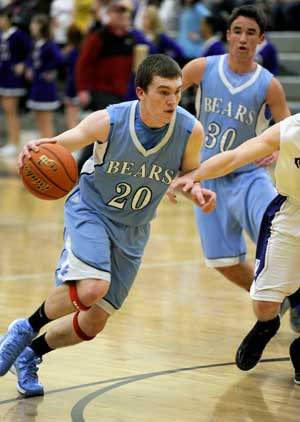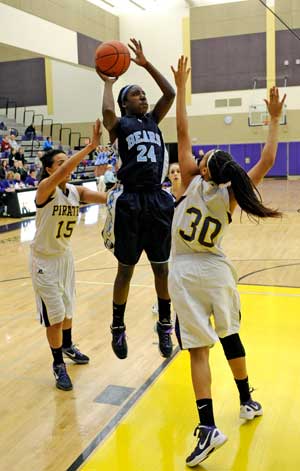 Mariah Cunningham elevates over a defender Friday in a game against Rogers High School. CV's defense proved mighty in the 76-27 win.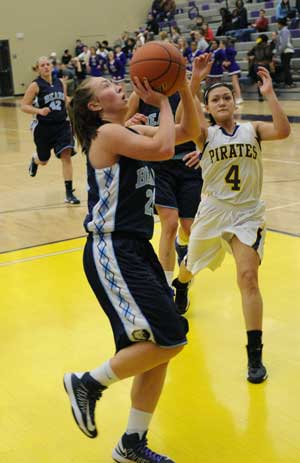 Molly Barnhart drives for a layup (above), and leading scorer Madison Hovren reaches for two more in the victory.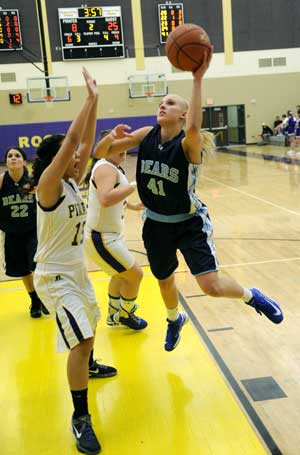 "It's a tough stretch for us," Sloan said. "The next four games will tell us a lot about the rest of our season."

Stingy "D" leads to wins
Following a rugged start that featured five games against top-end Greater Spokane League teams, Central Valley's girls basketball team earned a reprieve.

The Bears have run off three wins since, improving to 2-5 in league and 4-5 overall.

The defense proved stingy, limiting their foes to an average of 25 points per game.

CV beat North Central 48-22, Richland 42-28 and Rogers 76-27. Tuesday they faced vastly improved Ferris (6-3 overall and tied for third in the GSL).

Madison Hovren continues to be CV's force. She is averaging 20.3 points per game this season.

Time to strap it on
The GSL wrestling season likely comes down to three matches.

A biggie came Wednesday when defending champion Mead traveled to University, which has been on a tear.
One of those teams will absorb its first loss.

Central Valley coach John Owen will be watching with interest. His young unbeaten Bears travel to Mead next Wednesday. They finish the season at home against once-beaten Mt. Spokane Jan 17 and in the Battle of the Bone with U-Hi on Jan. 24.

Through the first five matches, junior Carson Graham, 106 pounds, freshmen Bryson Beard, 113 and Kyle Neil, 120, sophomore Blake Beard, 126, junior Colton Orrino, 132-38, and senior Tanner Davis, 182, have perfect GSL records.

Gymnasts going strong
Before Central Valley returned to gymnastics competition after New Years they had already faced some of their toughest competition, GSL power and defending state champion Mead twice and University once.

Last week, the Bears swept a five-way match to improve their overall record to 8-3 (0-1 in league standings with the loss to U-Hi). Issabella Erdem and McKinzie Carter shared all-around (four events) first place with a score of 33.8 and accounted for wins in three of four disciplines.

Erdem won uneven bars and floor exercise, the latter at 9.55, and Carter won vault.

Five league counters remain, following yesterday's match with Mt. Spokane and Shadle Park.