One Valley Initiative
1/9/2013 8:35:30 AM

Four issues we will be focusing on in 2013

If you picked up The Splash's sister publication, The Current, in the last week, you may have noticed the One Valley Initiative. In 2013, both publications will be doing some focused reporting on four "threads" that impact not just Liberty Lake, but the greater Spokane Valley region that our community is a part of.

For more on this initiative, pick up the January copy of The Current, which is on news racks all month and can also be checked out online at issuu.com/valleycurrent.

The basics, however, are as follows. The One Valley Initiative is simply focused coverage on four key issues. In the greater Spokane Valley community, the following four issues have a huge impact on our present - and on our future.

The community is invited to be a part of shaping the stories and sharing the perspectives that will lead to progress. The whole process is much like setting a New Year's resolution to focus on a particular area and then working as a team to follow through.

We are calling these four topics "threads" because we believe them to be important enough that we are weaving a major component of our story planning around them in the coming year. The threads include:

Advertisement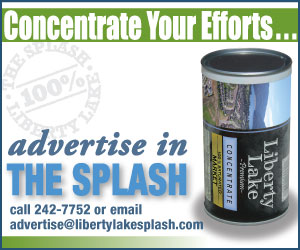 • Growing business

The financial foundation of the Val ley is woven through the health of our business community and the strength of our economic development. This topic will focus on business and job recruiting, industry clustering opportunities and business education. It will also consider the ways that business standards and practices impact the overall health and livability of a community and what a balanced perspective means for our community.
• Poverty in the Valley

With the formation of the new Valley Homeless Network and the increased demand for social services, The Current has invested a lot of ink in its formative year telling stories that show that poverty is a very real thing in the greater Valley. That said, it often looks different than one might expect. This "thread" is intended to bring further awareness and discussion to providing an infrastructure that meets the needs of community members facing and upside-down future while exploring upstream solutions that provide a bridge to future self-sufficiency.
• Healthy Valley
Health is a glue that binds many aspects of a community together. Financial, physical, environmental – there are many aspects of "health" that define a truly robust community. This thread will focus chiefly on physical health and wellness and its myriad impacts on quality of life. From our individual bodies to our community's natural resources as a whole, true wellbeing requires attention and upkeep.
• Innovative education

The Valley is quite blessed by a number of pioneering educational programs, some new like the formation of Spokane Valley Tech, and some established as a model like West Valley's truancy program featured elsewhere in this issue. Continued innovation is critical in any industry, and in few places moreso than the realm of education. Another component to innovation, however, is funding, and residents need look no further for the difficulty local districts have had in passing school bonds to know that the way voters and districts define success hasn't always meshed.
If you would like to be a part of receiving updates and having opportunities to be a part of this conversation, email the subject line "One Valley Initiative" to editor@libertylakesplash.com.