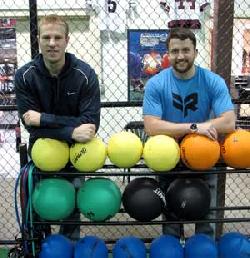 Splash photo by Jim Ryan

Total Sports Training and Gear Shop Manager Alex Garabedian, right, and personal trainer Kevin Busch take a break from their work at the new facility in December. The shop is now open at 25023 E. Appleway Ave.


More News
The 'Total' package
1/2/2013 8:58:45 AM
By Jim Ryan
Splash Contributor

A year after finding its footing in the community, Total Sports Training and Gear Shop has found a new home in Liberty Lake.
Owner Mark Funkhouser purchased the inventory and store fixtures of STIX Sports in Liberty Lake late in 2011 and began looking for a permanent home in the market that would allow the business to continue selling lacrosse and other sports gear and also expand its sports training operations. Funkhouser said after looking around Liberty Lake for about six months, he was able to find a site that offered a reasonable rent and was large enough to meet the requirements of a proper training and retail facility - located on the eastern edge of the city at 25023 E. Appleway Ave.
Funkhouser also operates a Total Sports facility in Buckley, on the west side of the state.
"We wanted to stay in Liberty Lake because we like the community," Funkhouser said. "There was already an established relationship from a retail store standpoint, and it's also a central location between our largest markets of Spokane through Coeur d'Alene."
Advertisement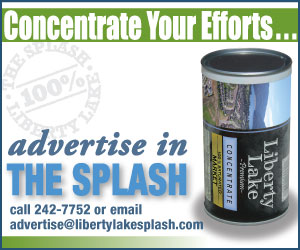 Funkhouser explained that Total Sports is essentially aimed at youth performance, with its primary function being services aligned with improving sports performance.
"And so what we do is offer speed and agility and power training for athletes in primarily six sports: baseball/girl's fast pitch, basketball, football, lacrosse, soccer and volleyball," he said. "We have a staff of trainers that includes past collegiate athletes with degrees that align with that industry like exercise science and fitness and coaching certifications.
Alex Garabedian, the store manager of Total Sports in Liberty Lake, said he appreciates that his job allows him to pass on his knowledge of lacrosse and other sports while helping kids work hard and excel in all their athletic pursuits.
"I want to see the sports grow and the kids have a good time," he said.
Funkhouser said the services being provided include: facility memberships; speed and agility, boot-camps and other fitness classes; individual and group private sports training; camps, clinics and training academies; off-site summer camps and tournaments; select sports teams; indoor batting cages; full-facility team rentals; special event and party rental; fitness testing and nutrition planning; and retail sporting goods.
"We have private training sessions, like if someone wants to learn how to be a better football quarterback or a better soccer goalie, or maybe if they want to learn a new sport like lacrosse," he said. "And our facility is also available for existing teams who need a dry, warm place to train."
He said Total Sports is the perfect facility for party rentals or sports-themed birthday parties, where party-goers can enjoy the batting cages, play dodge ball, take on an obstacle course and end up playing a game of basketball of Nerf football.
Funkhouser explained that Total Sports offers youth (6 to 12 years old), teen (13 to 17) and adult memberships. Youth members are required to have an adult in attendance while they are using the facility. Memberships start out at $50 for three months for any of the age brackets. He also said that Total Sports offers "drop-in usage," where an individual who is not a member can use the batting cage or shoot some hoops.
"We have a basketball and volleyball court combination, and then we have a turf facility we use for all the grass sports, which are baseball, football, soccer and lacrosse," he said.
The facility also includes more than 1,000 square feet of retail sporting goods representing all of the sports offered at Total Sports.
"We are a multi-sport retail store, and the goods we carry are not typically what you might find in your larger box stores," Funkhouser said. "They are higher-end quality, and our staff is very knowledgeable about the retail we carry."
Funkhouser has been in the Sports Management business since he graduated from Washington State University about 25 years ago.
"We ran our own sports and wellness company for about 16 years in Western Washington, and we had an opportunity to grow into Eastern Washington because we have family here," he said. "When STIX Sports closed, that got us interested in the Liberty Lake area."
Another part of his business is their Select Teams program.
"Select Teams offer tryouts for kids who maybe are in parks and recreation or school programs, but they want to play year-round," Funkhouser said. "And they want to be on Select traveling teams. Let's say you do try-outs for a volleyball team. What I would do is hire them a coach, get them uniforms, they would train at our facility, and then would travel around the state and maybe into Idaho, Oregon and California and play against the best teams."
Funkhouser is very excited to be a part of the Liberty Lake community and the surrounding areas.
"We think there are a lot of very supportive families who want to see their kids mentored in a way that will help them grow into strong leaders," he said. "We believe that participation in competitive sports is a big part of that. We feel the types of products and services we are going to offer the community should improve the quality of life in Liberty Lake."

---
Profiles:
Total Sports Training and Gear Shop

Location
25023 E. Appleway Ave.

Hours
3 to 8 p.m. Monday through Friday; noon to 6 p.m. Saturday; noon to 4 p.m. Sunday

Stated goal
"To use a variety of innovative programs and services to drive sports and fitness into a core value of life."

For more
922-1330 or www.totalsportsweb.com