LLSWD resolves to increase sewer rates, launch credit card option
1/2/2013 8:52:31 AM

By Craig Howard
Splash Contributor

As 2013 dawns, Liberty Lake Sewer and Water District customers will see two major differences to their sewer charges - a rate increase of 8.5 percent and a new option of paying by credit card that will also apply to water bills.

In a marathon meeting of the LLSWD board of commissioners on Dec. 19, both changes won approval with unanimous votes. The rate hike will mean an additional $2.75 per equivalent residential unit each month, bringing the ERU amount to $35.

LLSWD General Manager Lee Mellish said rate studies have been part of the district's routine ever since he was hired in 1993. A report from 2010 indicated sewer charges should be increased by 8 percent. Mellish said that the district is looking ahead to a $13 million upgrade of its treatment plant that will need to be online by March 1, 2018.

"We need to keep up with the cost of operations and future capital projects," Mellish said. "It's important to figure out what rates are going to pay for those expenses."

Single family dwellings comprise one ERU while commercial sites can range from a handful to many dozen. Mellish said that even though the proposed rate increase had been included on the meeting agenda for several months, no public comment was ever part of the discussion.

Advertisement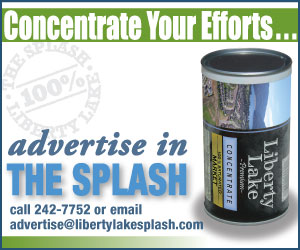 LLSWD Commissioner Steve Skipworth said the lack of upheaval over the rate change likely had something to do with the district getting the word out about future costs associated with a project like the treatment plant.
"We always look at options of keeping costs down," Skipworth said. "We try to explain the reasons behind a rate increase and let the community know what requirements are upon us and the fact that we're having to step it up a little every year. They may not like the higher rate, but I think they understand."
The credit card option for utility payments will not go into effect for 90 days, Mellish said. Customers should see notice of the application process in the March billing cycle. The district will contract with a company called Invoice Cloud for the service.
"We've had a lot of requests from customers to pay by credit card," Mellish said. "How many will sign up? I really don't know. We'll just have to wait and see how it works."
Commissioner Tom Agnew said the credit card option should cut down on the paper flow and improve general efficiencies. To this point, LLSWD customers could pay by check, cash or through direct withdrawal.
"This is long overdue," Agnew said.
The meeting last month also included a decision to name the Inlet Station after Frank L. Boyle, who served for more than two decades on the board of commissioners before passing away in late September.
"It's our good fortune that we could do that in Frank's memory," Agnew said. "Now we have a building to remember him by."
The triumvirate of commissioners - Agnew, Skipworth and recently appointed Kottayam Natarajan - will also be addressing the daunting task of finding a new general manager in the early part of 2013. Mellish announced last fall that he would be stepping down in March after 20 years of leading the district.
A total of 26 applications for the general manager's position were received prior to the Dec. 24 deadline. The commissioners have begun reviewing each application and plan to whittle the number down before beginning the public interview process. The district has mentioned Feb. 15 as the date for Mellish's replacement to start.
"I think Liberty Lake is a well-run district due to Lee, and we have a good reputation," Skipworth said. "From what I've seen of the applicants, we might have a few people who fit the bill."
Agnew said he was also encouraged by "a good field of applicants."
"I'm optimistic we'll come up with a good candidate," he said. "I think of it as an opportunity to make a great district even better."
The district approved a lean budget on Dec. 19, with the only significant capital project for 2013 consisting of a new reservoir on the east side of Liberty Lake. The reservoir, which will be built above the Bella Lago development, comes with a price tag of $50,000 and is anticipated to be online by spring.
An agenda item entitled, "Assignment of Funds" included details of a unique funding arrangement that addressed proceeds that had accumulated in the district's "looping fund" since the mid-1990s. With only one water line running from the north side of Interstate 90, LLSWD began charging a $900 fee for every new north side connection in hopes of raising enough revenue to build an additional line. Over time, the fund grew to approximately $150,000.
The influx of north end development in recent years - spearheaded by Greenstone's River District - created infrastructure needs in areas like roads and utility service that found support through a funding mechanism known as the Local Infrastructure Financing Tool. When LIFT - which includes a state match for funds raised through property tax - covered the bill for a second water line that has been in operation for well over a year, money from the LLSWD looping fund was suddenly without a destination.
After some of the funds went to purchase easements, the remaining $140,000 was moved to the LIFT and ultimately matched by the state, resulting in roughly $280,000 that Mellish said will likely be applied to additional infrastructure improvements on the rapidly developing north side.