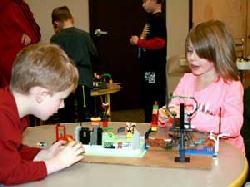 Splash photo by Tammy Kimberley

The Lego Club at Liberty Lake Municipal Library meets Mondays at 4 p.m.


More News
Building it with Legos
12/26/2012

By Valerie Putnam
Splash Contributor

Profiles:
LEGO CLUB

Lining the top of the Liberty Lake Municipal Library bookshelves are imaginative worlds filled with colorful pirates, dragons and knights.

Created in Legos, these colorful displays give a unique insight into the minds of young builders who crafted them during the library's newest after-school program, the Lego Club.

Every Monday afternoon, young builders of all ages descend on the library to create Lego masterpieces during a special hour of freestyle building.

"We like it a lot," said Jessica Fouche, whose two sons, Jude, 6, and Owen, 3, participate in the club. "They both can do it at their own level and build their own project. It's really fun for them."

Advertisement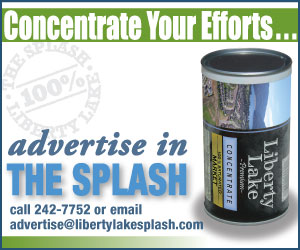 "I like getting to choose from so many different pieces," Jude said, when asked his favorite thing about the club. "And building fun things."
Rachel Kimberley, 9, attended her first Lego Club Dec. 10 along with younger brother Jonathan, 6. Kimberley built a dog kennel using fence pieces, a mini-figure pig with no legs and a horse.
"They have different pieces there than the ones we have at home," Rachel said. "They have animal pieces, and I really love animals."
Children's Library Associate Amy Dickeson said the Lego Club was a goal of the library for a very long time. It took until this past summer for the idea of the club to gather momentum.
"We always wanted to do one," Dickeson said. "We were interested in trying to get kids in after school, which is always a challenge because they are so busy."
The first obstacle was finding enough Legos to get the club started. Dickeson put out a plea to the community for donations.
Her initial request resulted in the library receiving a large tub of Legos from the Liberty Lake Kiwanis Club as well as help from the nonprofit organization, Friends of the Library. However, the library still didn't have enough to begin the program.
"I kept putting the word out that we needed more Legos," Dickeson said. "I didn't know if we would be able to have a club."
Dickeson tried to entice library patrons for donations by displaying a Lego Monster she built at the front checkout counter holding the sign, "feed me," but the Lego Monster failed to generate enough Legos for the club.
It took more than five months of asking, and generous donations by several local families, before the library was able to get the club officially underway.
On Nov. 5, with more than three large tubs of Legos, the club launched with six children in attendance. The club currently hosts more than 20 children every Monday afternoon.
"Once the word was out, it has grown," Dickeson said. "It is great."
The Lego Club is turning out to be quite a success for the library as after-school programs go. Other attempts, such as book clubs or crafts, weren't able to generate the same level of interest.
"This has exploded," Dickeson said. "We're really happy we've found something that really gets them excited to come to the library."
Dickenson plans to add an additional weekly session as attendance increases, noting that 30 children is the maximum number the space can accommodate. But with growth, Dickeson said the library will require more Lego donations.
"We have enough Legos for now, but if the Lego Club continues to grow, we will need more," Dickeson said. "It's a hard thing to ask people to give, but if everyone just gave a handful of Legos that would help."
Dickeson attributes the club's success to the ability of keeping participants creations from week to week. Each participant is given a 14- x 19-inch sheet of cardboard as a building base.
When the hour is over, each display is carefully placed on top of book shelves to be displayed throughout the remainder of the week. The following Monday, participants retrieve their creations and begin building again.
"It's hard to complete a project in an hour," Dickeson said. "This way, they don't have to stop, dismantle it and feel like they've worked so hard and now it's gone."
Dickeson said she will eventually have participants dismantle the creations and redistribute the pieces to allow other participants an equal chance to use the different Lego pieces.
"We're going to have to start fresh at certain points so they can share the pieces," Dickeson said. "Maybe once a month we'll start fresh."
According to Dickeson, she advocated for the activity primarily to get children excited about the library and have a program for children after school. She also noted it provides an opportunity for children to tap in to and grow the different skills that come with building Legos. She sees this as a means to spark imagination and creativity as well as develop a child's problem solving skills, mathematical reasoning, memory and attention span.
"You can really make a good argument for the academic or the development that is going on," Dickeson said. "Plus, it gets them in the library and makes them want to check out books. It's a win-win."
Recently, she held a maze theme contest for anyone wanting to participate. Staff and patrons judged the event by putting a button in a cup provided at each display. The winner received a $10 Toys "R" Us gift card. Dickeson hopes to have a different contest each month.
Next year, Dickeson plans to do more theme-based projects as well as tie in with reading.
"It's going to evolve," Dickeson said. "We'll use kids, parents and staff input to see what the kids want to do. There are many ways we could change it."
Whatever the tweaks, Dickeson is pleased to see the program on the right track.
"I love seeing the joy on the children's faces and the excitement," Dickeson said. "Seeing how popular it's become makes you feel like we're doing something right."

---
Profiles:
Lego Club

History
The Lego Club at Liberty Lake Municipal Library began Nov. 5 with only six members. Currently, there are 20 members, both boys and girls.

Meetings
4 p.m. Mondays at the library, 23123 E. Mission Ave. The meeting lasts an hour.

Fun fact
Participants' Lego creations are displayed throughout the library, which has increased participation in the club.
Donations
Donations of new or used Legos are accepted at the library. Tax deductible cash donations designated to the Lego Club are accepted through the Friends of the Library.

To join
No registration is required. Show up on a Monday.

For more
Contact Children's Library Associate Amy Dickeson on Mondays, Thursday evenings or Friday at 232-2510.