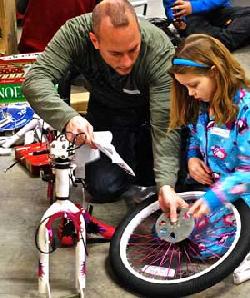 Splash photo by Jocelyn Stott

Kaitlin Brasch and Jon Overstreet, an OpenEye support representative, assemble her bike in the company's warehouse.


More News
OpenEye, open heart
12/19/2012 11:11:13 AM

Story and photos by Jocelyn Stott
Splash Contributor

While much of the world's attention was riveted on horrific tragedy at a Connecticut elementary school last Friday, employees of a Liberty Lake company hosted 25 school children to visit, have lunch and build a bicycle to take home.

Over the course of three visits by area school children, about 75 bikes were purchased and assembled by the team at OpenEye, 23221 E. Knox Ave., to be given to students from Central Valley School District middle and elementary schools.

While the surprise gift came in a bicycle box with a matching helmet and a lock, the quality time spent between the student and an adult mentor from OpenEye seemed to make the biggest impact. Assembling the shiny new wheels with the kids was a gift that appeared to be as enjoyable to give as it was to receive.

"It's easier to just write a check than to spend the time," said Rick Sheppard, OpenEye's Chief Executive Officer. "The employees and the kids both enjoy the interaction."

Considering his employees spent three different days hosting kids and assembling bikes, the experience cost Sheppard's company much more than just the price of the biking equipment.

Advertisement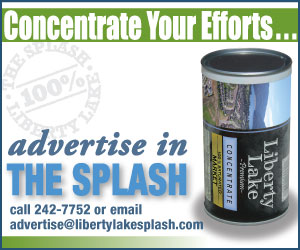 Sheppard said company employees are not especially bike savvy, but they do enjoy a healthcare membership as a benefit and value exercise. He added that the bikes are a great way to encourage kids to be active.
This is the second year OpenEye has hosted the bike-building event. Last year, the company purchased 25 bikes, said Megan Shryock, an OpenEye buyer who coordinated much of the event. Shryock said she ordered the bikes, locks and helmets from a variety of local stores, factoring in sizes for all of the kids.
"Just seeing the kids riding around on the bikes and not wanting to get off makes it so great," Shyrock said.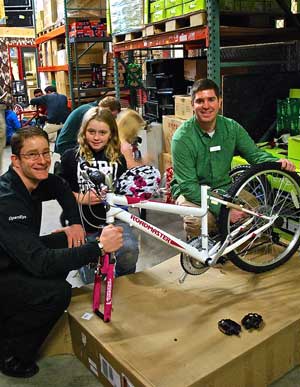 From left, OpenEye CEO and founder Rick Sheppard, fourth grader Riley Bessey and OpenEye Buddy Jake Sink, a software developer, work on Riley's bicycle surprise.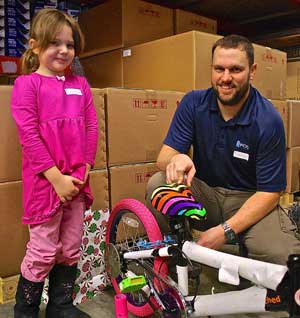 Angel Mead, 6, and Jason Arthur, an OpenEye Software Engineer, show off their progress while building Angel's bicycle.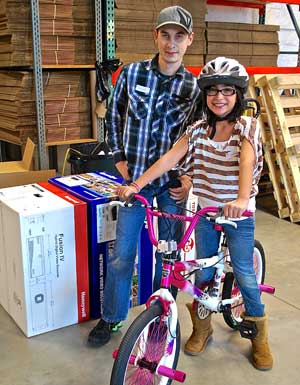 Isali Diaz, 9, tries out the finished product with OpenEye Buddy Sean McCall, a software engineer.

During the event, OpenEye employees, called OpenEye Buddies, were paired with children who have been selected by teachers, staff and administrators in the CVSD. The selection factored in things like success in studies, attendance as well as financial challenge. As OpenEye's own culture stresses character, the district also looked for students who were deemed to reflect Partners Advancing Character Education (PACE) traits - respect, responsibility, citizenship, caring, fairness, honesty, diligence, trustworthiness, courage, integrity, generosity and gratitude.

Some OpenEye employees had experience assembling bikes and other toys for their own children, while others, like Systems Engineer Eric Moss, worked his way through college working at Midway Cyclery, a Spokane Valley bicycle shop that closed in 2003 after decades in business.

Many others had considerably less experience.

"I've never built a bike before," said Nick Guzman, a fourth grader.

"Me neither, we'll just have to figure it out together," OpenEye Sales Manager Jonathan Stripes responded, reading through the assembly instructions.

Regardless of experience, the hands-on approach connected the kids to the gifts in a special way.

"I thought it was really exciting because I got to help," said Angel Mead, 6, who worked with OpenEye Buddy Jason Arthur, a software engineer, on her bicycle.

After the bikes were assembled, they were checked by a master builder, who inspected each for proper assembly and labeled them for delivery. Meanwhile, the students proceeded to lunch and a tour of the facility, including a look at some of the computer and camera surveillance technology created for OpenEye clients. OpenEye creates custom video surveillance computer technology used in department stores, financial institutions and public buildings.

The holiday gift lined up well with OpenEye's mission statement, "… to provide easy-to-use physical security products, systems and solutions backed by heroic customer service in a manner which benefits our customers, employees and the community."

A member of that community, Isali Diaz, 9, loved that her new helmet matched her new bike, assembled in partnership with Sean McCall, software engineer.

"I think it's really cool," Isali said. "I like the colors and this one has pegs. I was shocked to get a new bike. Sean's doing a great job."

OpenEye Chief Operations Officer Jack Lynch said watching kids tinker with the company's electronics is also pretty rewarding. Part of the tour included a station where the students learn about the computer components used in OpenEye systems, and the students are encouraged to try building a computer system themselves.

"Some of these kids are smart as a whip - they could put these computers together without us," Lynch said.

Back at the construction floor, OpenEye Buddy Tim Bybee - whose normal Friday role is vice president of project management - explained the finer points of the assembly process to Eric Radman, 7.

"It's like putting together a puzzle," Bybee said.

Eric, a first grader, answered, "This is fun hanging out with you. I've never had this much fun in a long time."