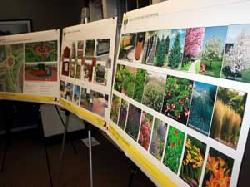 Splash photo by Craig Howard

Displays share information and options at an open house for a proposed roundabout in the city of Liberty Lake. The event, attended by about 50 people, was held last week at City Hall.


More News
Roundabout open house provides direction
12/19/2012 10:28:55 AM

By Craig Howard
Splash Contributor

As far as municipal open houses go, last week's gathering on a proposed roundabout at the convergence of Harvard, Mission and the Interstate 90 westbound off-ramp flowed seamlessly for more than two hours at Liberty Lake City Hall.

Now, city leaders and officials with the Washington State Department of Transportation are hoping the actual project will do its part to transport traffic just as fluidly at the embattled intersection.

An estimated crowd of more than 50 people attended the Dec. 13 open house in City Council chambers, featuring an expanded version of a presentation the governing board heard at its meeting on Nov. 20. Representatives from WSDOT brought an impressive array of brochures and narrative posters, complete with aerial images of the junction that has been a safety concern for as long as locals like Daryl Hagseth can remember.

"I worry about people who have to drive through that intersection," said Hagseth, who works as manager of the nearby Storage Solutions.

With Storage Solutions sites located on both Mission and Harvard, Hagseth is also aware that prospective customers may "look for alternate routes and not drive by businesses." After walking through the open house last week - which included a simulated video of vehicles moving through the roundabout at peak times in 2035 - Hagseth said the project represented a significant improvement over the status quo.

Advertisement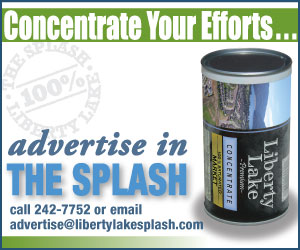 "I'm encouraged by what I hear," he said. "They're addressing our concerns."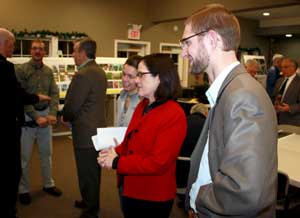 Splash photo by Craig Howard
Liberty Lake City Engineer Andrew Staples and City Administrator Katy Allen look over displays at an open house held last week to inform the public and gather input regarding a roundabout planned for the intersection of Harvard, Mission and the Interstate 90 off-ramp.

---
WSDOT Project Engineer Darrel McCallum admitted the open house turnout "was more than expected" and said the feedback had been positive outside of several truck drivers who attended the meeting with less-than-glowing reviews of roundabouts.

"There is a fairly high percentage of truck traffic through that intersection," McCallum said. "It does add a little more wear on those vehicles."

Statewide, roundabouts are becoming more of a trend, McCallum said. Part of the reason has to do with reducing emissions from vehicles that are not stalled at a traffic light. On average, roundabouts move 30 to 50 percent more vehicles than similarly sized signaled intersections. Improved safety is also a major consideration. According to WSDOT, fatal accidents are reduced by 90 percent and injury accidents by 70 percent when roundabouts are installed at an interchange.

Longtime Liberty Lake resident Margaret Barnes arrived at the open house with serious doubts about the effectiveness of a roundabout, particularly with the prospect of vehicles exiting westbound off I-90. Yet after studying the diagrams and seeing the design visualization provided by WSDOT, Barnes said "it's not as narrow as you think."
"My concern was the freeway traffic going into the roundabout," Barnes said. "But this gives you a different perspective. Hopefully it's going to work the way they say it will."

Like many motorists, Barnes exits early off the freeway in order to bypass the crossing that many find perilous.

"I don't go that way," she said. "It's extremely difficult to make a left-hand turn because you have to watch for traffic from both directions."

Other attendees at the open house were not quite as enamored with the proposed design. Cindy Marshall of Otis Orchards wondered aloud why more discussion was not taking place regarding a traffic light at the intersection. She hauls horses from her place to the south and said the issue affects residents beyond Liberty Lake.

"The county community uses this intersection, too," Marshall said. "I just wonder if the developers have more influence than the public. It seems that the city is only taking input from the public about the art and landscaping and not the actual roundabout."

McCallum and WSDOT Design Team Leader Genessa Cebriak addressed the question of the traffic signal option from several council members at the Nov. 20 meeting, noting that the level of traffic did not meet minimum requirements for a light as outlined by the Manual of Uniform Traffic Devices.

George Gee, who owns three auto dealerships on the south side of the freeway in Liberty Lake, was one of several representatives of the local business community to attend the open house. He said most of the delays he sees now at the intersection occur when work lets out.

Gee said that while the roundabout "is going to be a solution for us," he wondered how commercial traffic would be affected when the project breaks ground.

"I'm concerned what's going to happen during construction," he said.

WSDOT officials have reassured city officials that access will be taken into account when the road is being transformed.

"We know that's important," McCallum said. "That's why we would approach this in multiple stages."

As for the potential timeline for construction, McCallum said a best-case scenario would have bids going out sometime next spring, with the roundabout being completed by the beginning of September.

In addition to the pavement portion of the project, Mike Terrell, a Liberty Lake-based landscape architect, presented a handful of options for signage, landscaping and lighting that would be included in and around the roundabout.

One of the three-dimensional renderings of roundabout art features an "historic landscape" with cobblestones and a grid pattern of trees that pays tribute to the abundant orchards of a bygone era. Other options include landmarks such as a central sculpture, water feature and gateway signs.

"We've come up with a lot of ideas, and we're hoping to communicate that," Terrell said. "It's a process that really helps the community understand what we're trying to build."