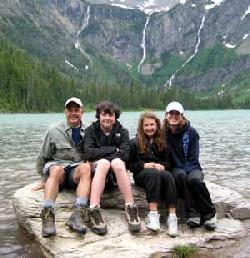 Submitted photo

Kottayam V. Natarajan Jr.; son, Kieran; daughter, Kali; and wife, Alison Ashlock, enjoy some solitude at Glacier National Park in this family photo. Natarajan was recently selected to replace Frank L. Boyle as a Liberty Lake Sewer and Water District commissioner.


More News
Natarajan chosen for spot on LLSWD board
11/28/2012 10:51:13 AM
By Josh Johnson
Splash Staff Writer

Profiles:
Kottayam V. Natarajan Jr.

An aviation industry consultant with an expressed priority - and long family heritage - of watershed development and protection was chosen Nov. 19 to replace longtime Liberty Lake Sewer and Water District Commissioner Frank L. Boyle, who passed away Sept. 28.
Kottayam V. Natarajan Jr., who goes by "Nata," was selected from five applicants at a meeting held in a building named after his late father-in-law, Denny Ashlock, who was one of the district's founding commissioners. His first official meeting as part of the three-member board will be its next one, Dec. 19.
Natarajan, 45, is senior director for AvAirPros. He has a master's degree in public policy from the John F. Kennedy School of Government at Harvard University and a bachelor's degree in economics and French language and literature from Whitman College. He is married to Alison Ashlock, who grew up in Liberty Lake and attended Central Valley High School with Natarajan. Ashlock is the daughter of Denny and Linda Ashlock.
Advertisement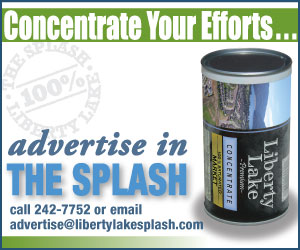 Commissioners Tom Agnew and Steve Skipworth both expressed praise and confidence for all applicants for the position ("We did talk about the possibility of creating a seven-person board," Agnew joked), but after recessing the meeting twice for further interviews and consideration, favored Natarajan.
"We're replacing Frank Boyle, and the people voted for Frank Boyle this last term," Skipworth said in explaining his decision. "I felt that I needed to think about the things like, 'Who would Frank have chosen?' And then also at the same time start thinking about who would also have similar thoughts to what Frank might have?"
Natarajan's ties to the district's heritage began with Denny Ashlock, a citizen activist whose leadership in the foundation of the LLSWD was one of many local legacies. He also was a leader in projects such as the development of the Centennial Trail and the transformation of a former zoo site at Mirabeau Point. Denny Ashlock died in 1997 at age 59.
"I had known him since I was a junior in high school," Natarajan said in an interview following his selection. "My parents were divorced, and I lived with a single mom. He was generally like a father figure to me."
While the continuation of a family heritage in the LLSWD is special to him and his extended family, Natarajan said it shouldn't factor into how anyone else views him.
"For me personally it's a nice thing, for my family it's a nice thing, but I would expect the citizens of Liberty Lake to hold me to just as high a standard as anyone else," Natarajan said. "And one of the reasons I don't mind saying that is because I'm really pretty passionate about this area."
Indeed, Natarajan listed his passion for Liberty Lake's "unique quality of life" as one of his chief reasons for applying for the job. He said he also hopes the position will enable him to utilize his skills and experience toward developing and protecting the watershed while preserving natural resources.
In his application packet for the position, Natarajan included letters of recommendation from Linda Ashlock, Shawn Chalich, Stan Chalich and Arthur "Skip" Toreson Jr., another longtime LLSWD commissioner.
"To me, Nata possesses the key skills to complement the existing commissioners and to help plan for the future of Liberty Lake, particularly given the current and future issues the district will face," Linda Ashlock wrote in a letter to Agnew and Skipworth.
Among the issues faced by the LLSWD is requirements in its permit that give it the right to discharge treated effluent into the Spokane River. The environmental regulations become increasingly difficult in coming years, requiring expensive technologies - some of which may not even be in existence. The district has also considered a future in which it might not discharge into the river at all.
"I do not think there is an easy answer," Natarajan said.
He was quick to say he is not coming to the board with ready-made solutions for the coming challenges, but with a general philosophy of working hard to make wise decisions and understanding that we can't "have our cake and eat it too" when it comes to investing financially in the stewardship of the community.
Letters or recommendation also painted Natarajan as an extremely intelligent man and a quick study for complex or unfamiliar issues. Natarajan admitted he has a learning curve, but looks forward to the challenges of getting up to speed. He said he personally enjoys education and believes outreach into the community for education is another priority.
He said he is not afraid to approach friends and neighbors with suggestions that would further a "quiet and friendly stewardship" of the community and its natural resources.
"It's the way Alison and I are," he said. "We're the folks that recycle all the time. In fact, some of our friends probably get irritated because we are the people who go to their house and move things out of their garbage and into their recycling bin."
Natarajan was one of five candidates who applied nearly six years ago to replace Harley Halverson when he retired from the board, a position that eventually went to Skipworth. Since that time, he has remained connected to the LLSWD, attending lake protection conferences and staying abreast of LLSWD issues.
Other applicants for the commission included:
• Jeff Hoover, insurance agency owner, former city of Liberty Lake planning commissioner and resident of the community since 1968;
• Kelly Lukes, owner of Lukes Accounting and Liberty Lake resident since 1982;
• Gary Wolf, 18-year resident and former materials engineer at Hanford involved with handling power plant waste, current chemistry teacher at Spokane Falls Community College;
• Dennis Scott, retired Spokane County public works director and former president of the Liberty Lake Home Owners Association.
Profiles:
Kottayam V. Natarajan Jr.
Goes by
"Nata"
Age
45
Family
Wife, Alison Ashlock; son, Kieran, 14; daughter, Kali, 11
Hobbies
Snow skiing, water skiing, playing at the lake, hiking, socializing with friends and neighbors
Favorite thing about Liberty Lake
The lake itself and the old-fashioned sense of community where people know each other
Favorite Liberty Lake destinations
Hay J's Bistro and "I wouldn't want to tell you how much I go to Home Depot"