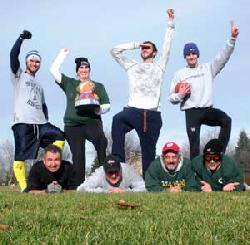 Submitted photo

Standing victorious, from left, are kidsí team players Trevor Sharpe, Anne Cocchiarella, Bobby Andre and Brad Whitley. In submission on the ground are adults J. Travis Prewitt, Tadge Cochran, Joel Nania and Jim Nania.



Turkey Bowl XXIV decided in overtime
11/28/2012 10:52:01 AM

By Jim Nania
Splash Guest Column

Near perfect conditions greeted contestants at Pavillion Park on Thanksgiving Day morning. Only thing was, there were only a few contestants.

Diminished participation was attributed by game organizers to the recent adverse economic environment. It was speculated that some kids were protesting because of diminished parental economic support for their prolonged and carefree adolescence. Probably some adults were protesting the lack of jobs for kids and therefore the lack of funding for social security that we are counting on in the "golden years."

Nonetheless, those that answered the annual call for a generational contest experienced a remarkably competitive and exciting game. In a rare sign of improvement in the economy, a golden one-dollar coin was produced for the toss, and in a more common sign that things are not that much better, there was an intense ground scramble for the coin after it appeared to have disappeared into the turf of Pavillion Park.

The kids deferred the first possession and were shocked when J. Travis Prewitt (aka "The Admiral") returned the opening kickoff for a touchdown. Touting the "magic pill" of daily exercise, Prewitt was a major factor for the adult team in the first half and accounted for 28 points, with two coming from runs after he intercepted passes.

However, early in the third quarter he made a desperate dive, face set with grim determination on an attempt to cross the goal line, and had his face reset with the pain of a severely pulled hamstring.

Advertisement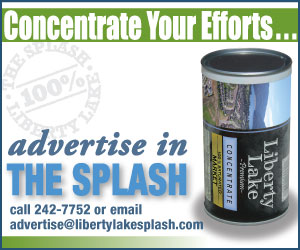 Down seven points at the half, the kids' team took full advantage of this injury with QB Brad Whitley finding sure-handed receiver Trevor Sharpe of the Spokane Shock front office again and again. Kid Bobby Andre showed his handsome smile was still accompanied with a complete preservation of his athleticism as he continuously made key plays on both sides of the line. Kid Anne Cocchiarella made a major statement for gender equality as the only female on the field and caught a long pass that led to another kids' score. The score was tied 28-all at the end of the third quarter.
And now, for the adults comes veteran Tadge Cochran (aka "The Gronk"). Injured in last year's game, he was a questionable starter but was never better and showed remarkable agility as well as great hands as he caught, ran and scored with an abundance of finely thrown passes from adult QB Joel Nania, who was in rare veteran form.
The kids fought back and demonstrated a picture-perfect double reverse that went for another touchdown and left the adults scattered on the ground like the fallen leaves of autumn. At the end of regulation play, the score was tied at 49.
A Colorado-style overtime followed, where again it was Whitley to Sharpe in the end zone for the go-ahead score. The adults could not answer as they dropped passes that will haunt them all winter.
Final score: Kids, 56; adults, 49
Kids MVP: Trevor Sharpe, seven touchdowns
Kids Honorable Mention: Anne Cocchierella
Adults MVP: Tadge Cochran (better than ever!)
Next year will be the 25th year and Silver Anniversary of this Turkey Bowl. Tradition may have lost some traction in today's environment of instant gratification and virtual reality experienced on the comfort of a couch. Organizers plan to evolve with the times, and next year's big event is planned with cash prizes, scantily clad cheerleaders of both genders, major primetime media coverage, free commemorative T-shirts and extensive social media marketing.
All those who have ever played in this Turkey Bowl are encouraged to "suit up" next year at 10 a.m. on Thanksgiving Day for the big game.
Jim Nania is a longtime Liberty Lake resident and Turkey Bowl organizer.