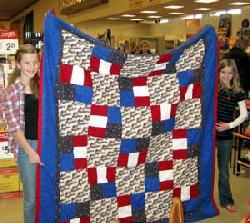 Submitted photo

Amanda Anderson, left, and her sister, Emily, pose with a quilt Emily made for a raffle Amanda organized to benefit the Wounded Warrior Project. The elder sister made a $1,203 gift to the organization to mark her 18th birthday.


More News
A young woman's gift to herself helps others
11/20/2012 10:00:17 AM
By Jocelyn Stott
Splash Contributor

Profiles:
Amanda Anderson

When Amanda Anderson turned 18 Nov. 8, she gave a $1,203 birthday gift to people she didn't even know. Her gift in return was the joy that came with learning what her generosity meant to strangers.
Through weeks of pushing herself outside her area of comfort, Anderson collected donations and sold raffle tickets to raise the $1,203 donation she made to the Wounded Warrior Project. The nonprofit helps veterans return to civilian life through health and wellness programs based on individual areas of need.
Anderson learned of the project through her band teacher, Eric Parker, at Central Valley High School, who helped give Anderson a platform from which to raise funds. Since Anderson plays flute in marching and concert band, Parker allowed Anderson to raffle donations she had personally collected at the craft fair and concert. This year's craft fair and concert were mainly used to raise funds for the band's upcoming trip to Washington, D.C., in January.
Advertisement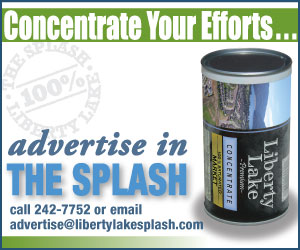 Anderson said the CVHS band holds a fundraising concert each year around Veteran's Day to honor Vets. Band members are inspired, in part, by another Central Valley music instructor, Lieutenant Mason Flemmer, an Army Reservist, who may return to deployment next year.
This year's concert fell on Anderson's 18th birthday, giving her a perfect opportunity to celebrate herself by helping others. Donated items included golf clubs, a Shop-Vac, restaurant gift cards and Albertsons raffle basket.
Perhaps one donation of particular significance came from Anderson's younger sister, Emily, 14, an eighth grader at Greenacres Middle School.
"Emily was the first person I told what I was going to do," Anderson said. "She instantly offered to make a quilt and two pillows."
Emily said she was glad to contribute. The quilt and pillows, constructed of red, white and blue squares, took her about a week to finish. The sisters learned to sew during a quilting class at Greenacres Middle School. (After the excitement of watching her quilt sell, Emily has decided she will do a Veteran's Day fundraiser every year.)
Anderson said she chose to help raise funds for the Wounded Warrior Project on her own time because she knows many active-duty members of military and veterans and is moved by their willingness to make sacrifices for others.
"They go through so much - physically, emotionally and mentally - that we don't," she said. "I just felt like I wanted to give something back to those who come back and need help."
Anderson was able to donate her funds via a Wounded Warrior fundraising event held at the Liberty Lake Safeway. The Safeway Corp., based in Pleasanton, Calif., chose the Wounded Warrior Project as its charity of choice and equipped each store with related marketing materials. Anderson approached store management to see if they could help her get her contribution to the nonprofit.
"It was a surprise and an honor to tie in their efforts with our own company's efforts to support the Wounded Warrior Project," Safeway Store Manager Dan DiCiccio said. "I want Amanda to get the recognition she deserves for the effort she made on her own."
Anderson says her father, grandfather and great-grandfather all served in the Air Force during times of war, and she has a friend, Matthew Cox, she met at a church dance and corresponds with while he is serving in the Marine Corp. Anderson said Matt shares some of his training rigors with her, and she is amazed by what they are willing to do. As her friend prepares for deployment, she is both proud of his commitment and worried for his health and safety.
During the fundraising activities, Anderson expected to be challenged by her apprehension to approach strangers for donations.
What Anderson didn't expect was how much her efforts meant to the people she met.
"Everyone was so supportive and told me they thought it was a good cause," she said. But the best part came when Anderson personally delivered the donated items to people that had won.
"A lot of people told me stories of loved ones they cared about who had served in the military," she said. "One man was an Army Major - that was really cool to meet him and have him thank me. I really felt like what I did made a difference. And that's such a good feeling. …
"Asking for donations and talking to people was a challenge for me. I'm not good at that kind of thing, but I learned that sometimes I can move outside my comfort zone for something I really care about. Doing things that are hard can be really worth it."
Anderson's mother, Lara, shared that Amanda actually did have a little help on the sales end of things: "Our youngest daughter, Jamie, who is 11, has no problem at all talking to people - she helped sell a lot of raffle ticket."
The Anderson family has participated in a number of fundraising or charitable events as family over the years from cystic fibrosis and breast cancer awareness walks to Vanessa Behan Crisis Nursery and emergency kits for Citizens Emergency Response Team fundraisers. One year, the family participated along with 2,000 other volunteers in creating nearly 4,000 holiday cards for deployed troops.
But this project was all Amanda's idea.
Lara adds that seeing her daughter plan and fulfill her fundraising mission was certainly not out of character.
"She is good at watching people and reading needs," Lara Anderson said. "She is not exceptionally outgoing - she excels at one-on-one relationships. I was very thrilled to see her do this."
Charlie Anderson, Amanda's father, said all of his children, including his oldest, 20-year-old Eagle Scout son Derek, who is currently serving on a mission in Brazil, are generous with giving.
"I love to see them so cheerful," he said. "I always say that's the selfish side of giving - how cheerful it makes us feel."
Profiles:
Amanda Anderson
Nickname
Mandy. "I didn't know my real name was Amanda until I was about 5. No one told me," Anderson said.
Age
18
School
Senior at Central Valley High School
Hometown
Liberty Lake
Plans after high school
Attend Brigham Young University and become a teacher or a psychologist. Amanda sometimes helps teach German at Liberty Lake Elementary school.
Pets
A stray cat, fish and a pet deer that lives in the backyard
Most daring rescue
When she was 5, Amanda spied a red-eared slider turtle making its way down her street. She insisted on having her family help her return the wayward terrapin to the lake, almost a mile away through thick woods and private property. The family complied and the mission was successful.
For more
www.WoundedWarriorproject.org