ONLINE UPDATE: Natarajan chosen to replace Boyle
11/20/2012 12:01:13 PM
By Josh Johnson
Splash Staff Writer

An aviation industry consultant with an expressed priority – and long family heritage – of watershed development and protection was chosen Monday to replace longtime Liberty Lake Sewer and Water District Commissioner Frank L. Boyle, who passed away Sept. 28.
Kottayam V. Natarajan Jr., who goes by "Nata," was selected from five applicants at a meeting held in a building named after his late father-in-law, Denny Ashlock, who was one of the district's founding commissioners. His first official meeting as part of the three-member board will be its next one, Dec. 19.
Natarajan, 45, is senior director for AvAirPros. He has a master's degree in public policy from the John F. Kennedy School of Government at Harvard University and a bachelor's degree in economics and French language and literature from Whitman College. He attended Central Valley High School with Alison Ashlock, daughter of Denny and Linda Ashlock, who he later married. In his application packet for the position, Natarajan included letters of recommendation from Linda Ashlock, Shawn Chalich, Stan Chalich and Arthur "Skip" Toreson Jr., another longtime LLSWD commissioner.
Commissioners Tom Agnew and Steve Skipworth both expressed praise and confidence for all applicants for the position, but after recessing the meeting twice, favored Natarajan.
Advertisement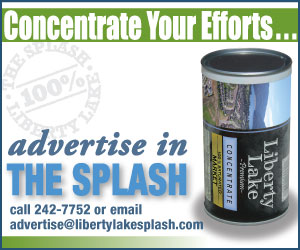 Other applicants for the commission include:
• Jeff Hoover, insurance agency owner, former city of Liberty Lake planning commissioner and resident of the community since 1968;
• Kelly Lukes, owner of Lukes Accounting and Liberty Lake resident since 1982;
• Gary Wolf, 18-year resident and former materials engineer at Hanford involved with handling power plant waste, current chemistry teacher at Spokane Falls Community College;
• Dennis Scott, retired Spokane County public works director and former president of the Liberty Lake Home Owners Association.
More on Natarajan's selection will be included in the Nov. 29 issue of The Splash.