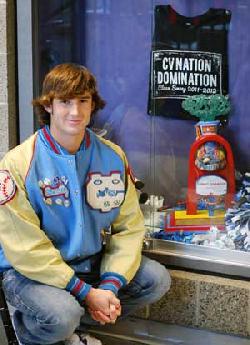 Splash photo by Jocelyn Stott

Liberty Lake resident and Central Valley High School senior Scott Hilpert crouches next to the Stinky Sneaker spirit trophy sitting in a case at the school. Hilpert is working on keeping the trophy for a fourth consecutive year when the annual rivalry game comes during basketball season.


More News
President Scott Hilpert
11/7/2012 9:56:36 AM
By Jocelyn Stott
Splash Contributor

Scott Hilpert holds a 3.7 grade average. He is a varsity multi-sport athlete. He is the ASB president at Central Valley High School.
Oh, and he's not afraid to walk and squawk like a Pterodactyl, and he may pull out a Friday the 13th hockey mask at any given moment.
Hilpert is clearly a leader who is comfortable with himself - whether it's inspiring his classmates to generate donations for a food drive with his enthusiasm or making a teammate laugh with his Jamaican-style singing and self-taught piano skills.
He's held ASB presidential positions at Liberty Lake Elementary School, Greenacres Middle School and now CV, but Hilpert credits participating in athletics for much of his development as a leader.
Advertisement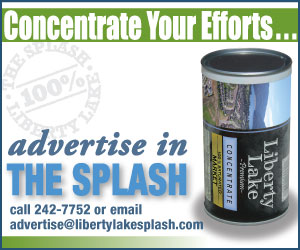 He also wastes little time trying to be cool. The result is a humble confidence and appreciation for the efforts of everyone.
"My leadership style is enthusiasm, mixed with humor," Hilpert explained. "I really believe in unity and sharing common ground with everybody."
For this reason, Hilpert tries to attend other sporting events at Central Valley and supports the band, drama club and other extracurricular activities at the school.
"Everyone comes to football games," Hilpert said. "We should show our appreciation by doing the same - we are all CV."
This style of inclusiveness and support doesn't surprise Jeff Rachoy, Hilpert's fourth grade teacher at Liberty Lake Elementary.
"It didn't matter what you looked like, if you were a struggling or thriving student, if you were athletic or not - Scott always included everybody and made them feel like they were an important part of the team," Rachoy said. "As a result, people followed his leadership."
In elementary school, Hilpert served in the K-Kids service club (a youth version of Kiwanis) as well as his term as ASB president. Rachoy remembers that even though Hilpert enjoyed his schoolwork, he thrived when he was communicating and working side by side with people.
As math teacher and middleweight football coach at Greenacres Middle School, Ron Barsness taught Hilpert in the classroom and on the field as his quarterback. Barsness said Hilpert always had a way of connecting with people.
"He wasn't trying to win a popularity contest," said Barsness, who remembered Hilpert as both a solid math student and the ASB president as an eighth grader. "Scott always reached out to those who struggled, took time when he really didn't have to."
So where did he learn this compassion for others? Hilpert points to the influence of his older sister, Madison, who was also a leader during her time at Central Valley. Hilpert said Madison Hilpert, now 20 years old and attending Eastern Washington University, is everything he strives to be.
"She makes good choices, she's genuine and good for her word," Hilpert said. "I try to be an example like that for my younger sister, Drayke, too."
Drayke is a junior at Central Valley.
Scott's mom, Dana Hilpert, a physical education teacher at Greenacres Middle School, said her son's empathy may have come in part from watching Madison struggle with moving several times and feeling left out.
"Despite her early struggles, she (Madison) is an amazing listener, and she was an example of someone who stands up for what is right, and is unafraid to be singled out," said Dana Hilpert, adding that her three kids all have unique personalities but they see how they can all have value and still love each other.
Encouraging people to appreciate those who are different is one of the things Hilpert strives to do as president, and one of the challenges of leadership is getting all those different types of people to embrace a common idea, Hilpert said. Sometimes that involves some rallying, which comes easier if you can get people to laugh.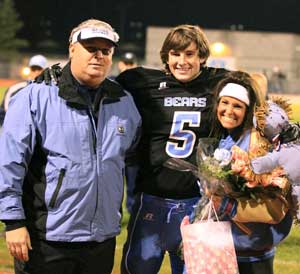 Submitted photo
Scott Hilpert, a cornerback and wide receiver who has also served time at quarterback, is flanked by parents Adam and Dana Hilpert during senior night festivities at a recent football game.

---
"I use different leadership techniques depending upon the situation," Hilpert said.

For example, Barsness, who also coaches middle school girls basketball, remembers Hilpert helping out with a practice once.

"Everyone was shooting jump shots, and if you missed you had to run sprints," Barsness recalled. "It was grueling and intense. Out of the blue, Scott pulls out this old-school hockey mask and took a shot. I think he missed, but everyone was cracking up. He just pulled it out of his shorts. The energy just shifted at that point."

Humor is a go-to skill Hilpert frequently employs to pull his peers out of tension.

"He could always have us belly laughing at any moment," said Barsness, adding that Hilpert often brought out his legendary Pterodactyl impersonations when football practices were at their hottest and most difficult.

"He'd start screeching and walking around like a big, prehistoric bird thing," Barsness said. "With his lanky frame, it was just hilarious."

All kidding aside, what's in the future for Scott Hilpert?

"We have to win the Stinky Sneaker for the fourth year in a row, " Hilpert said of the annual school spirit rivalry matchup with University High School held during basketball season.

As for a more distant future, it's on to college, possibly through the ROTC program, a path blazed by Hilpert's grandfather. He'd also like to play baseball - he's a shortstop at CV - at a northwest college like his dad, Adam Hilpert, who is a business executive.

Professionally, he'd like to teach, coach or maybe lead a company.

"I haven't ruled out being an elected official," added Hilpert, the thrice-president.

It's just as likely Scott Hilpert could do all of the above.

FAST FACTS ABOUT SCOTT HILPERT

Nickname


"Scotty" or "Scotterpop," for his obsession with the sugary frozen treat, Otter Pops.

What his classmates think
Voted most unlikely to change

Dogs
Malibu, a chocolate lab, and Murphy, a golden retriever

Family
Parents, Adam and Dana; sisters, Madison and Drayke.

Moods
Not a morning person. Mom Dana's recipe for when he gets cranky: Try giving him beef jerky and a hug.

Insect-pertise
The praying mantis. Hilpert gave a high school-level lecture as a first grader on the subject of praying mantis biology after extensively researching and hatching a large batch of eggs near Liberty Lake.

Political platform
Unity, enthusiasm and humor. He ran for ASB president on a Honey Badger theme.