LL deserves thanks for BUTB's five years
10/24/2012 11:32:15 AM

By Jessica Kovac
Splash Guest Column

Oct. 7 was a special day for us as it marked the five-year anniversary for founding Blessings Under the Bridge right here in Liberty Lake.

I wanted to give our Liberty Lake community an update as well as take the time to extend many thank yous. As Blessings Under the Bridge gears up for its sixth annual winter event on Dec. 15, I am in awe of the amount of support we have received from Liberty Lake, its businesses, people and nearby churches.

We have received so much support in the past few months following our summer event we held in July. I don't even know where to start to explain how much has happened, but here are a few that come to mind:

• Papa Murphy's allowed us to earn 15 percent of the total sales that came in July 9.

• Just Chillin' promoted Blessings Under the Bridge through its "Change for Charity" months and raised the highest amount of change at $1,027.

• We received monetary donations and gift cards from Home Depot and McDonalds.

Advertisement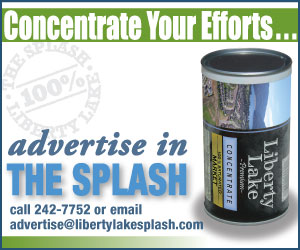 • Continued support still streams in from Albertsons, Rhonda with Hay J's and Vance with Otis Grill.

• Kari Aquino and JoAnn Zyph with the Liberty Lake John L Scott office now have employees donating $12 a month.

• Bobbi Anderson with the Liberty Lake Police Department has been a huge voice for our donation barrels.

• Barry Baker with Baker Construction is still a huge support year-round, always donating to our annual events.

• Great Clips has started donating employees and hours for haircuts and hundreds of coupons.

Support BUTB

Upcoming events for Blessings Under the Bridge include:

Nov. 3: Jessica Kovac speaking and teaching a workshop at the Mission Catalyst Conference at Calvary Chapel in Spokane

Nov 15: Emily Osborne State Farm will add an additional barrel location at the Liberty Lake Portal

Nov 17 and Dec. 8: Liberty Lake Albertsons will be raising turkey bucks and taking food and clothing donations

Dec 15: BUTB's sixth annual winter event, Homeless Holiday Brunch, will take place, and donations of food, treats, blankets, clothing, winter gear and toiletries are requested.

December TBD: Celebrity HuHot Mongolian Grill night

• Liberty Lake Church has committed to one Wednesday a month to make our 200-plus fresh deli sandwiches for our Blessed Brown Bags.

• The employees of Insight here in Liberty Lake have donated money.

• Emily Osborne State Farm Insurance has become a great support from donating toiletries as well as providing financial support. She will also offer her agency as a barrel location for items needed coming Nov 15 at the Liberty Lake Portal building.

• Liberty Lake Starbucks has been a huge supporter since inception in 2007 from coffee to volunteers on a weekly and annual basis. Starbucks corporate just granted us the highest level grant donation of $2,500 for community involvement with a nonprofit.

• Our most recent thanks to Valley Real Life church for promoting us for the spotlight charity of the month. The church presented us with a check worth enough to fill close to 1,400 Blessed Brown Bags on top of donating clothing items. Many of its care groups have also inquired about how they can serve and give at our feeds. One care group of 27 found out we needed shelving and donated a large portion to cover the costs for 40 feet of much-needed shelving!

• We recently received blessing and support from Spokane Mayor David Condon with a plan to work together. For starters, he and the city approved a central location we can feed from every week. BUTB has many ideas for this location.

• I received a call from Phoenix, Ariz., as officials there want a BUTB in their city, so I will keep you all informed as to how that goes.

• We have been fortunate enough to receive support from places outside of Liberty Lake, such as Inland Northwest Bank and Paul Mitchell.

As we continue to grow and refine our mission and vision, we are reminded that the search for hope is within all of us. No matter who or where you are. That's our heart, that's our mission to try and instill a little in everyone, including ourselves. Five years later, we are still blown away by what God is doing.

We are abundantly grateful to our amazing Liberty Lake residents, churches, businesses and surrounding areas. From all of us here at BUTB, thank you!

We encourage and invite the rest of Liberty Lake to become involved with us. If you have a heart to give, serve or help someone in need, get into contact with us. The hand that blesses is the most blessed.

To volunteer or donate, check out butbvolunteer@gmail.com or www.butb.net.

Jessica Kovac is a Liberty Lake resident and the founder of Blessings Under the Bridge.