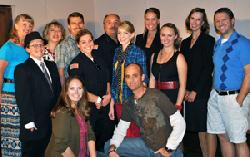 Submitted photo

Members of the cast of "Hit the Road, Jack" include, back row from left, Judy Black, Jean Simpson, Lono Hagmann, Dan DiCicco, Angela Waugh, Vickie Weaver and Stephen Holcomb; middle row, Ethan Hagmann, Allison Leyh, Kaylee Plumb and Michelle Hare; front row, co-directors Jennifer Ophardt and Kevin Kuecken.


Stellar cast makes LLCT's latest worth 'hitting the road' to see
10/10/2012 10:01:13 AM
By Josh Johnson
Remember the 1980s game show, "Press Your Luck," in which contestants would take a "spin" on a prize board and try to avoid a red-caped cartoon character known as the "Whammy"?
It seemed a requirement that contestants would cry, "No Whammy! No Whammy! No Whammy!" over and over again before ending the spin with the drawn-out exclamation, "aaaaaannnnd STOP!"
(Ethan Hagmann probably doesn't remember that show, but more on that in a moment.)
The point is that the Liberty Lake Community Theatre's most recent production, "Hit the Road, Jack," is like a prize-winning spin on "Press Your Luck." This cast has no Whammies.
Seriously. I attended a special press screening on Monday, and greeting me there were many of my favorite cast members from past LLCT productions.And the only two I hadn't seen before - both LLCT first-timers - ended up being show-stealers themselves.
Advertisement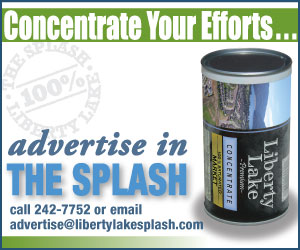 All told, while "Hit the Road, Jack," is in the upper echelon of my favorite LLCT performances to date, the top-to-bottom quality of its cast was the best LLCT has fielded in the productions I've seen.
The story itself is similar to a lot of LLCT scripts. It's a lot of fun, there are plenty of laugh lines - and it's not out to win you over with a substantial, life-altering plot. Rather, the simple storyline follows the father-son team of Jack and Trevor Gunderson (played by Liberty Lake residents Lono Hagmann and Stephen Holcomb, respectively), owners of a driver education school with a questionable track record of producing top-flight students. As the future existence of the school is called into question, a next-door bank robbery turns the play into a bit of a whodunnit.
Holcomb's role binds the play together, and his comic touch compliments an impressive ability to play the worrying - yet easily distracted - role of Trevor. Hagmann is steady and reliable as Jack, who is indeed the steadier Gunderson so the casting is a great fit. As an interesting aside, Holcomb shed a mustache and Hagmann grew one for the roles. According to a post-screening discussion with the cast, consensus seems to be that Holcomb needs to keep his off, while Hagmann has produced an impressive look. Alas, Hagmann is reportedly ready to shave the second the final curtain closes.
IF YOU GO …


"Hit the Road, Jack"


When: Saturday at 2 p.m.; Friday, Sunday and Oct. 18-20 at 7 p.m.


Where: The Kave, 4904 N. Harvard Road, Otis Orchards


Admission: $8 adults, $5 ages 4-12 (3 and under free), tickets sold at the door


Cast: Judy Black, Jean Simpson, Lono Hagmann, Dan DiCicco, Angela Waugh, Vickie Weaver, Stephen Holcomb, Ethan Hagmann, Allison Leyh, Kaylee Plumb and Michelle Hare


Crew: Co-directors Jennifer Ophardt and Kevin Kuecken


Not growing a mustache for his part is sixth-grader Ethan Hagmann, Lono's son, who turns in a distinguished performance as Mayor Mac McKendrick. Ethan, one of two student members of the cast and the youngest by a longshot, was good natured about working with the older crowd and reportedly helped Dad (and many other cast members) with his steel-trap memory of the script.
The other student is Kaylee Plumb, a high school sophomore and LLCT newcomer. Plumb plays the sarcastic Flo Delaney perfectly and was one of the many bright standouts in the play.
The other newcomer, local Stepping Stone teacher Allison Leyh, brings her outgoing personality onto the stage with impressive talent. It was hard to believe that "Hit the Road, Jack" was her first theatre production. She was talked into taking part by her boss, LLCT veteran and Stepping Stone Director Angela Waugh, whose sense of humor on and off screen are part of what make community theater so fun.
Judy Black and Michelle Hare are repeat cast members who show a real ability to take on a role that doesn't reflect their real-life personalities. Both of their roles call for a bit of flighty, "blonde" banter, and they do a great job of making the audience believe.
Vicky Weaver was flawless as bank executive Melinda Bremer. She is always so reliable and steady with her acting, and therefore smartly cast. Bremer's character is perhaps as important to making the play work as any, so Weaver was a great choice.
Finally, the Safeway duo of Dan DiCicco (incidentally, a man with a great mustache) and Jean Simpson continue to delight every time they take the stage. Both have wonderful comic touch, and Simpson delights as usual when called upon to explore the louder parts of her existence with expressions like, "Holy cheese and crackers!"
As usual, the connections to the community make the play extra fun. Whether it's the sets of coworkers, the Liberty Lake family connections or the localized props (look for Safeway receipts, Washington Trust Bank references, The Splash want ads and even Liberty Lake Police Department uniforms), this is truly a local theater group.
It's hard to beat, even if you have to take a short ride down Harvard Road into Otis Orchards. Truly, The Kave venue fits LLCT well, and while some would wish it was actually inside city limits, it's so close it may as well be. It's well worth "hitting the road" to check out this top-notch cast.