Deer rescued from frozen lake
12/10/2009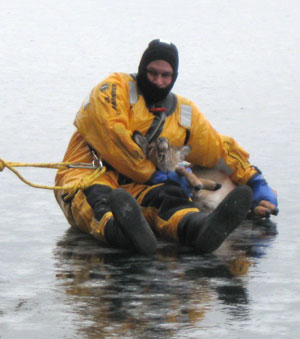 Submitted photo

A deer that fell through the ice on Liberty Lake was rescued Wednesday by the Spokane Valley Fire Department.

A 911 caller reported the deer was stuck near 2000 S. Liberty Drive at around 10 a.m. The deer was about 70 to 100 yards from shore when firefighters arrived, according to the fire department.

Firefighters, equipped with safety equipment, reached the deer and tugged it to shore, where the animal sprang to its feet and took off. The rescue took about 15 minutes, the fire department said.

Fire officials said the ice was about two inches thick where the deer feel through and warned that it takes about three inches to hold a single person and about five to six inches to hold a group of people or snowmobile safely. Clear, blue ice is the strongest, fire officials said.
---
| | | |
| --- | --- | --- |
| | November 2022 | |
RECENT ENTRIES
Get readers laughing
3/9/2010 4:04:47 PM
Peeps contest
3/4/2010 12:38:56 PM
LL Wine Cellars reviewed online
2/4/2010 9:51:26 AM
Facebook venture
2/2/2010 4:56:13 PM
Bike to Work Week 2010
1/12/2010 4:22:32 PM